Athletics Auckland Rising Stars - Peyton Leigh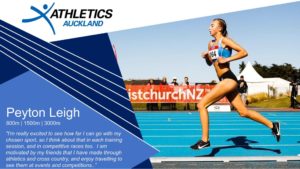 𝐈𝐧𝐬𝐩𝐢𝐫𝐚𝐭𝐢𝐨𝐧:
I am inspired by Colleen Quigley who is from the USA. She posts some awesome online workouts, shares hints and tips including nutrition, and is a really positive person. In NZ I get a lot of inspiration from Angie Petty. Angie is also a really positive role model for young athletes. She is kind, encourages athletes, and her sportsmanship is something to be admired. She is always happy for other people. My coach Graeme Holden also inspires me to be the best version of myself every day. I have been with him since I took up running competitively over 2 years ago.
𝐑𝐚𝐧𝐝𝐨𝐦 𝐅𝐚𝐜𝐭:
When I was a little younger I didn't like running!
Favourite 𝐦𝐨𝐦𝐞𝐧𝐭 𝐨𝐟 𝐭𝐡𝐞 𝐬𝐮𝐦𝐦𝐞𝐫 𝐬𝐞𝐚𝐬𝐨𝐧:
Winning two national titles in the U18 women 3000m and 1500m at the Jennian Homes NZ Track & Field 2020 Championships. I had been injured for most of last year so this was a dream for me. I hope it inspires many younger athletes to not give up.
𝐆𝐨𝐚𝐥 𝐟𝐨𝐫 𝐭𝐡𝐞 𝐧𝐞𝐱𝐭 𝐬𝐞𝐚𝐬𝐨𝐧:
Hopefully there will be a cross country season this year, whatever that may look like! Two years ago I had only just started running seriously so was not so involved, and last year with being injured I only competed in one race. I hope to give this season a good go. For track starting at the end of the year and in 2021, I hope to improve on my personal bests.
#AthleticsAuckland #FutureFriday #RisingStar #Aspire #AspireAndAchieve #Athletics #EarnTheFern #TrackAndField #TrackNation #800m #1500 #3000m