Athletics Auckland Secondary Schools Challenge Cup and Champions Cup Round 3
Challenge Cup – Round 3
Westlake Boys High School woke up the competition on Saturday with a big turnout of athletes preparing for the NZ Schools Championships. With their winning performance in Round 3 they have jumped up the overall leaderboard and are now in serious contention to make the podium. Second place this week went to consistent performers, Macleans College. Macleans have been in the top 3 in all three rounds and have shown that consistency is the key to winning. In third place was Rangitoto College. Rangitoto has been slowly building over the last few weeks are now in the mix with one round remaining.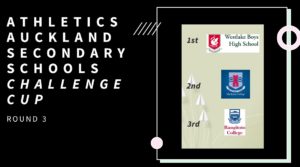 In the overall leaderboard, Macleans College lead the way with 54 points, from former winners Avondale College on 52 points and King's College on 40 points. With Macleans holding a 2 point lead it will all come down to the final round on Saturday 5th December at Herb Towers Track. Rangitoto College and Westlake Boys High School sit in equal 4th on 33 points and with a good performance could easily find themselves in the medals.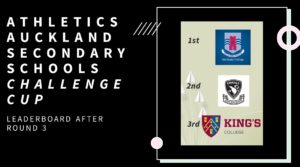 Champions Cup – Round 3
In the Champions Cup, Western Springs College took their second win of the series with another strong performance. Westlake Girls High School has finally made their run in round 3 for 2nd place and Baradene College signaled they were back after only collecting 1 point in round 2.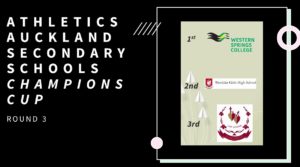 In the overall leaderboard, there wasn't much change again. Western Springs College hold a 10 point lead over Westlake Girls with Baradene a further 3 points back in third. With the only the final round remaining, Western Springs will go in favourites. Can the two all girls schools cause an upset? We'll find out on Saturday 5th December at Herb Towers Track.